Prints


Once finding an image you'd like to purchase comes the next step... which size and what medium should I purchase? Well, that depends on a couple factors. Price range and location of hanging the print. Personally, my favorite medium is HD Metal. HD Metal is much more durable and won't stretch like canvas. It also comes in a gloss format and matte finish which is perfect for those areas that have a lot of windows and where glare could be an issue. Below is more information on sizing and print mediums to assist in your decision.

Also, if you live in the Southern Utah area I am available for free home visits including measuring and installing.


PRINT MEDIUMS & SIZES
All prints come in a range of different materials including HD Metal (gloss and matte), Canvas and Fine Art
Paper.
There is a number of different size options available for all prints. Custom sizing and orders such as triptych's (picture split into 3 pieces or more) can also be made for your business or home. Please contact for custom quotes.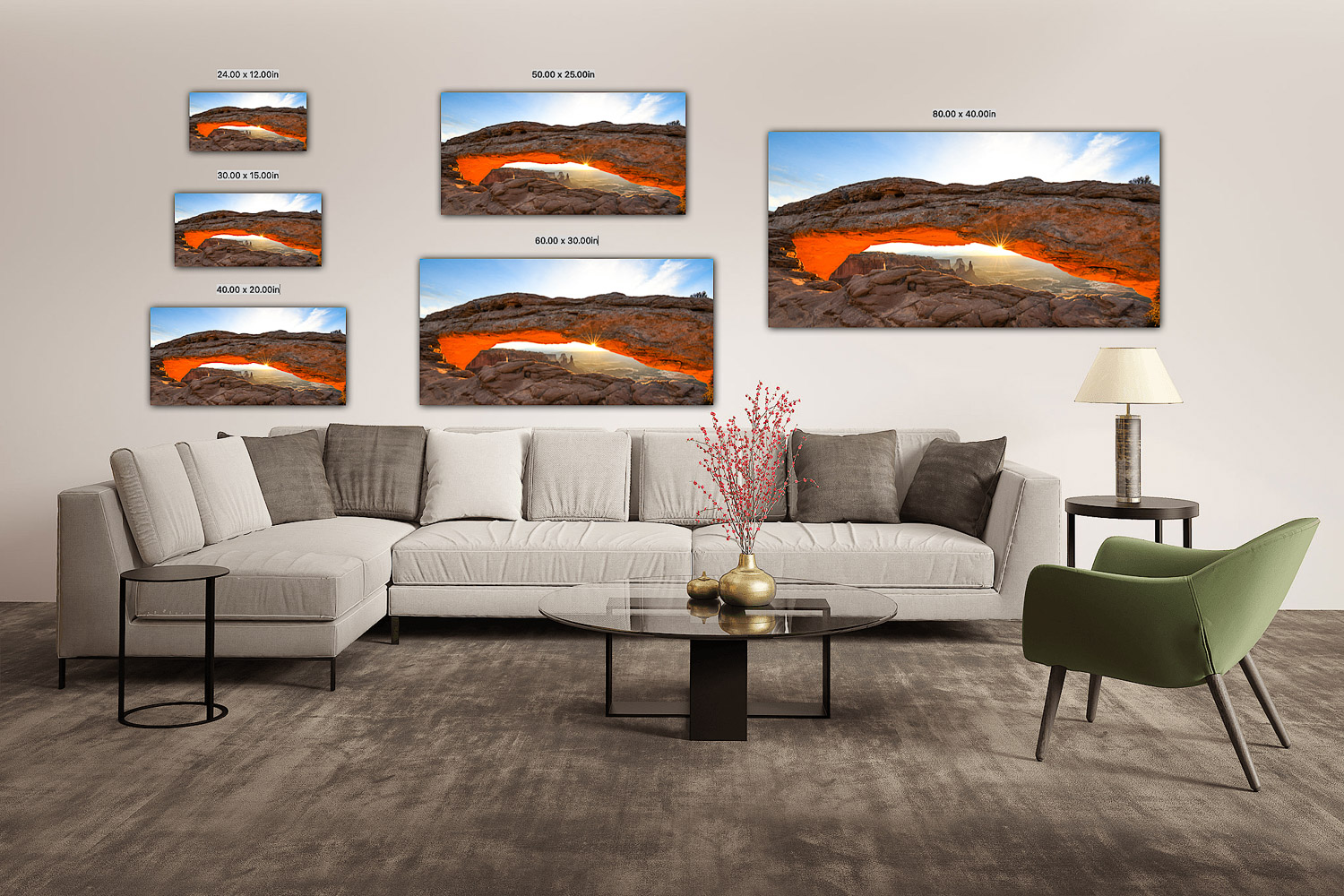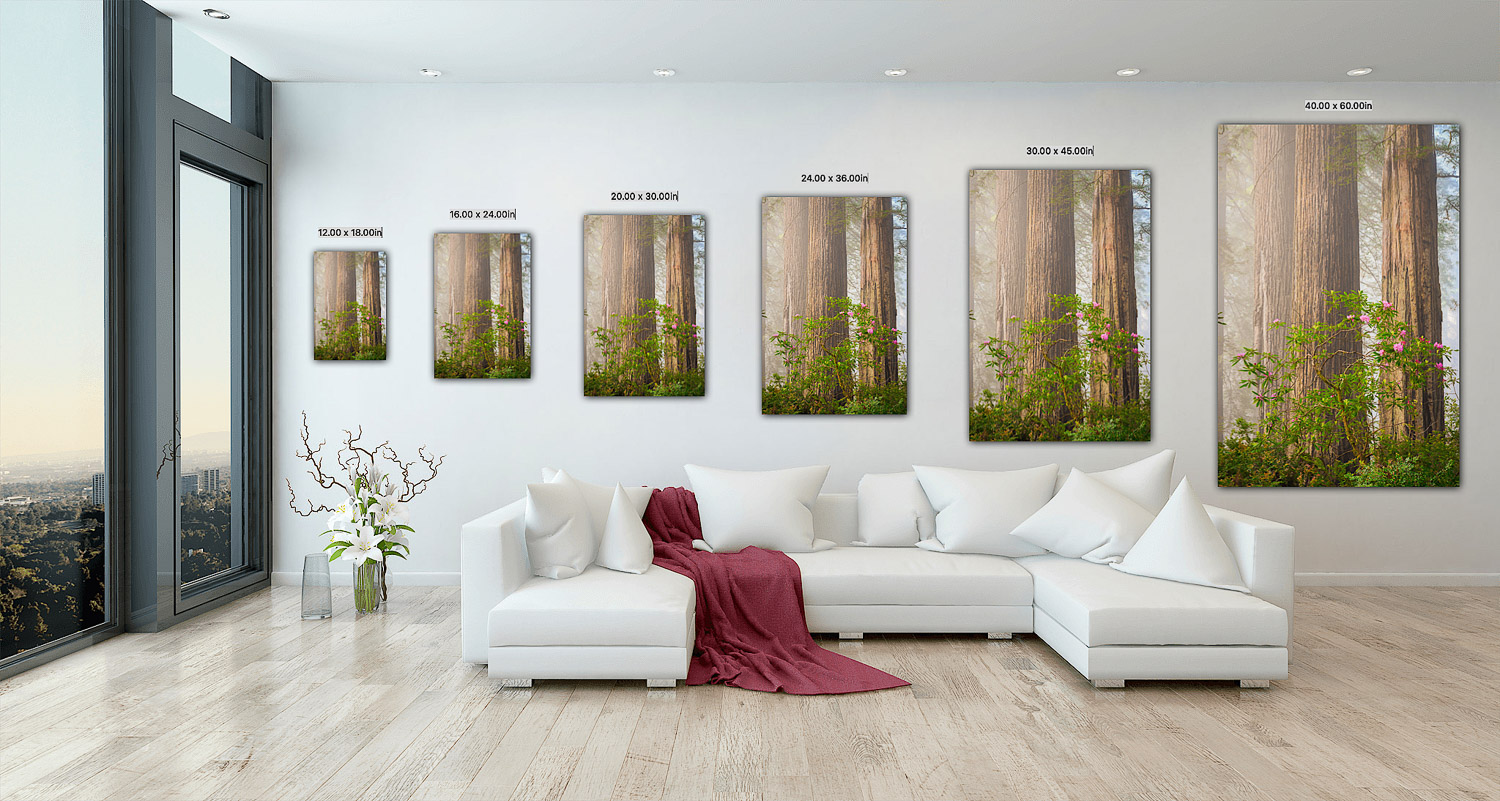 METAL PRINTS
All Metal Prints come personally signed with a certificate of authenticity and are ready to hang with floating frame.

Metal prints are lightweight, durable and made with a high grade aluminum. Because images are infused directly into specially coated aluminum, metal prints offer unsurpassed color vibrancy, exceptional detail and color resolution and will not fade in indirect sunlight.

Features and Benefits;
- Gloss and Matte finish available

- Vibrant image reproduction
- Exception detail and color resolution
- 3D depth of image
- Fade resistant
- Stain resistant
- Scratch and abrasion resistant
- Chemical resistant
- Moisture resistant
- Extremely lightweight
- Water resistant
- Unsurpassed color brilliance and vibrancy

The archival qualities, image brilliance, and durability set the Metal Prints apart from all other print mediums, and since it's an easy-to-clean substrate ChromaLuxe is the premium choice for homes, offices, hospitals and healthcare facilities.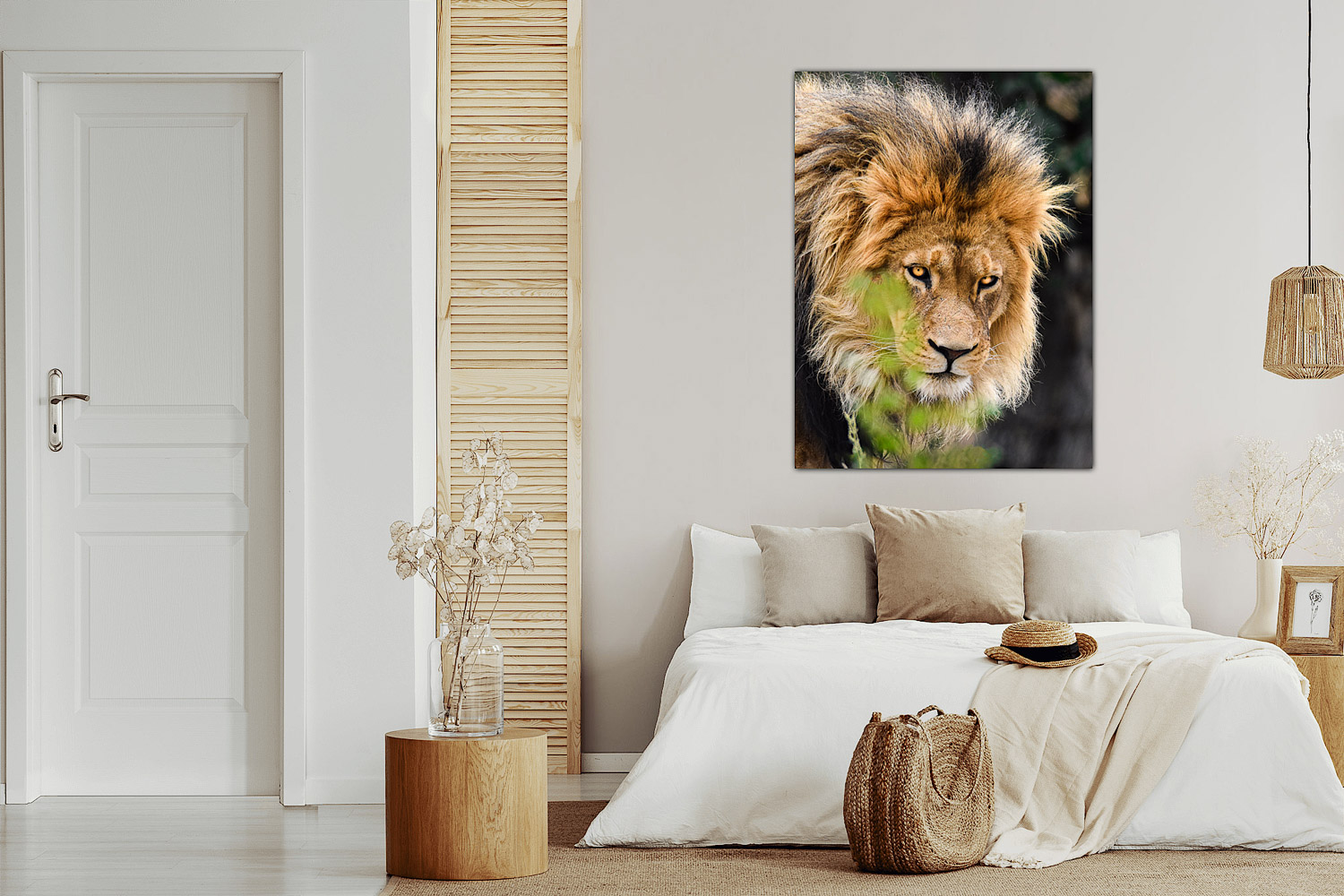 CANVAS PRINTS
Canvas prints are stretched on a wooden frame and are ready to hang.

Canvas prints are not personally signed and do not come as a limited edition print.

Features and Benefits;

- Industry leading color density and D-Max due to its satin finish
- It has less glare under direct lighting which makes it a great choice for reflective areas
- Saturations and the perfect sheen for prints that are bold and vibrant
- Our heaviest weight canvas for stretchings with structure, style, and substance
- No lamination required means prints are done and ready to stretch in record time
- Certified for 75+ years - OBA-free for a color stable canvas that will never "burn-out"
FINE ART PAPER
Fine art paper is the most affordable option however it only comes as a roll of paper and doesn't come personally signed and is NOT a limited edition.

Fine art paper is a great option if you'd like to place in a ready made frame of your choice or if you'd like to take it to your local frame shop for custom framing.

Features and benefits;

- The warm matte finish lends itself happily to prints that are rich and inviting
- At 300 GSM it is well structured and poised for a variety of framing and mounting designs
- Stable and lasting 100% cotton base with a plain smooth texture
- Certified archival by an accredited third party for 100+ years display life
- Reflect your art accurately under any lighting conditions
- OBA-free for a color stable paper that will never "burn-out"
QUANTITY DISCOUNT

Quantity discounts are available to art collectors, interior designers, businesses and/or any customer wishing to purchase more than one print in a single purchase. This discount can lead to substantial savings on your print order. This is a great option if looking to decorate your home, business, hotel etc with multiple prints. Please inquire for more information.




PRODUCTION & SHIPPING

All work is printed and shipped from Southern Utah in the United States. Prints require 7 - 14 business days of production time.




WARRANTY

All sales are final but if the fine art print is damaged during shipping then please contact me immediately so we can resolve this issue. Items delivered must be inspected within 24 hours of delivery.